Nuremberg, February 28, 2019 – The software and consulting company, MID was awarded the "Top Job" seal of approval for the third time. The "Top Employer 2019" award recognizes the excellent employer qualities held by the medium-sized company.
MID GmbH will be able to wear the "Top Job" seal of approval for the next two years. A great work/life balance and family friendliness count amongst the great employer qualities shown by the Nuremberg IT specialists. Flat hierarchies, personal communication and comprehensive training options enable approx. 140 MID employees to keep their expertise up to the highest levels and make waves in the development of the company. The mentoring system employed by the medium-sized software and consulting company strengthens professional and personal skills of both new and long-standing colleagues alike. "We not only wear our "Top Employer 2019″ badge with pride; we will also use it as motivation. We can only grow as a company if we enable our employees to grow as well" stresses HR manager Kristina Hardegen.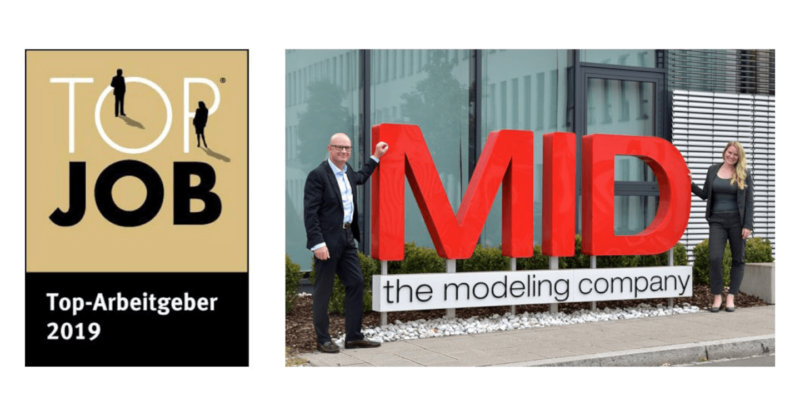 Quality Seal of Approval affirms Many Employee Benefits
MID's own employees can attest to the superb working conditions compared to other companies within Germany. The IT specialist scored well due to its many attractive employee benefits: from its pension scheme, through to part time and sabbatical options, working from home, subsidies for public transport and gyms, as well as flu jabs and supporting extra-curricular activities.
Researchers at St. Gallen university, under the leadership of Professor Doctor Heike Bruch, were asked to assign the "Top Job" quality seal of approval by asking 98 employees from medium-sized companies and also by evaluating their HR tools. The award was presented in Berlin, on February 22. You can find pictures of the award ceremony and further press information as of February 25 in the press area here.