Nuremberg, March 31, 2021 – MID's consultants once again managed to prove their best winning "Best Consultant" for the third time running. The Nuremberg IT specialists are now cream of the crop in 4 consulting areas.
Digitalization, IT strategy, IT implementation and data analytics/big data are the areas where MID GmbH provide superior quality. This can be attested by both employees and customers alike, who have voted MID "Best Consultant 2021" for the third year running in the "brand eins" magazine's ranking. MID and its consultants have risen to many challenges without having to sacrifice any quality. "The fact that our consultants have scored so well compared to our other German counterparts affirms our belief that the customer is the focal point at the heart of consulting" explains Dr. Martin Müller, managing director at MID GmbH.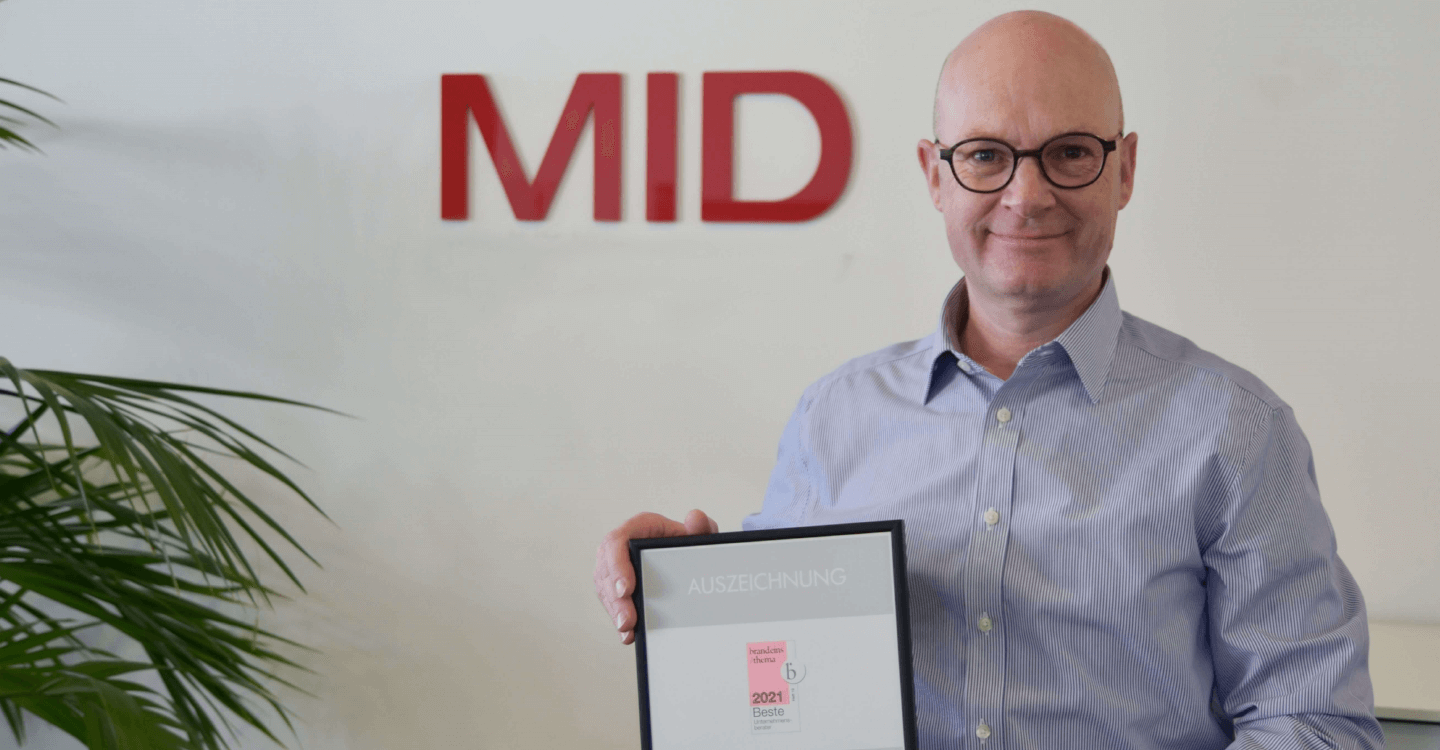 Industry Comparison Provides Overview and Orientation
The economic situation has been difficult for many companies across all industries. It is even more important to drive digitalization in such times. Good consulting and IT services are worth their weight in gold. "brand eins" and Statista's well-established ranking "Best Consultant" gives a great overview of the consultancy market. It groups over 300 companies into relative industries and areas of work. The competency of the companies is well reflected in how they rank. "The ranking puts customer satisfaction with our consultancy services into words and recognizes us within our industry. We are proud to be able to put a stamp on the industry with our services we provide, quality and consistency" sums up Dr. Martin Müller.
How were the "Best Consultants 2021" Determined?
The "best consultants" are awarded by Statista GmbH on behalf of the magazine "brand eins". In 2021, Statista surveyed around 8,000 consultants, including partners, principals and senior managers. 2,334 of these outlined their recommended consultancy companies in particular fields via a questionnaire. 1,334 customer managers were then asked about their experience with these consultants. Recommendations and evaluations taken from both of these groups were then assessed and top lists were formed, giving an overview of the quality of the service providers.
You can see an overview of the full ranking here: https://www.brandeins.de/magazine/brand-eins-thema/unternehmensberater-2021/interaktives-ranking-und-bestenliste