Nuremberg, June 7, 2019 – The "Best Consultant 2019" ranking proves the abilities of our MID consultants. The medium-sized company can swim with the big fish of the industry.
MID GmbH's consultancy services count among the best in Germany. This is the result determined by the "brand eins" magazine when looking for "Best Consultant 2019". Glowing customer reviews were decisive for the Nuremberg IT specialists ranking as the best consultants in Germany. "Our great ranking highlights the professional work carried out by our consultants. Our teams give 100% every day to find the best solutions for our customers" explains Carsten Wehner, sales and marketing manager.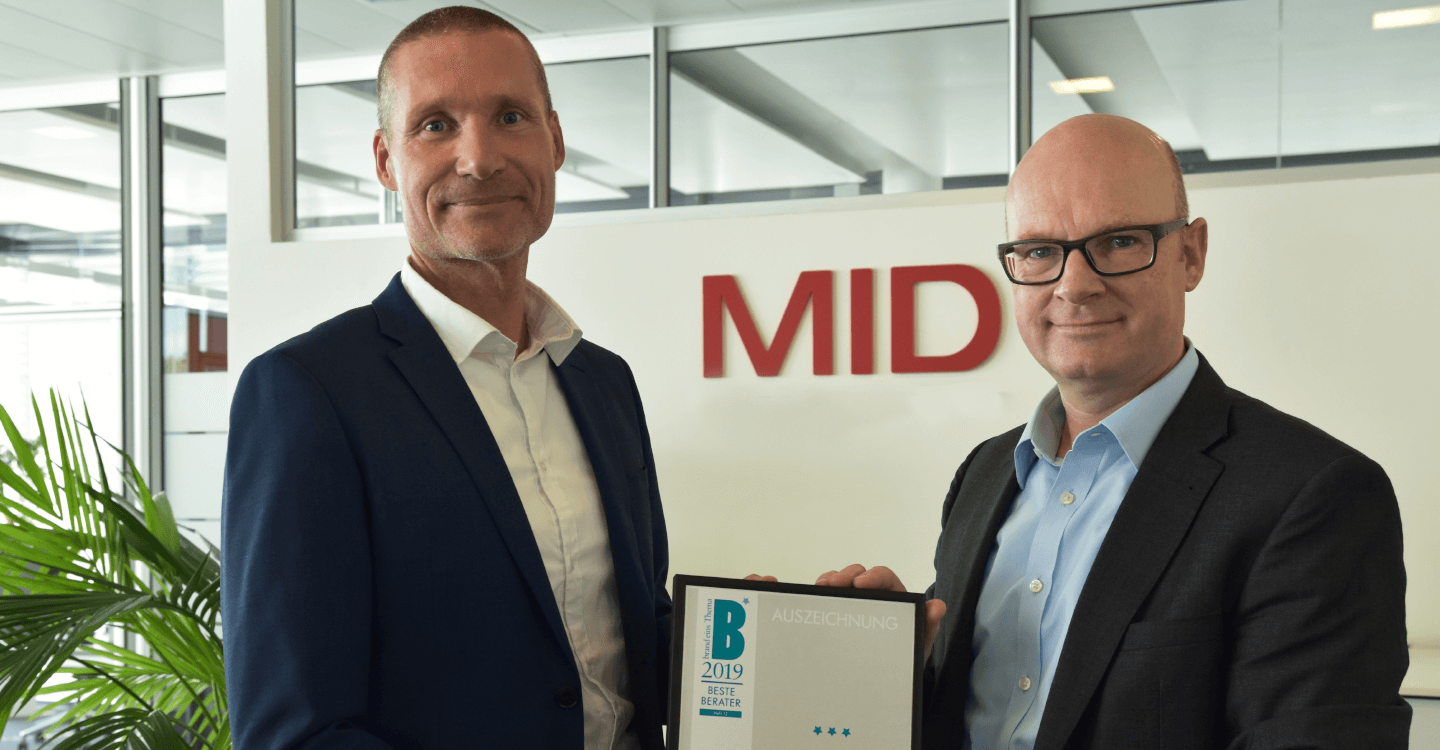 Ranking Shines a Light through the Consultancy Jungle
This is the sixth time "brand eins" and Statista have examined the consultancy market to identify Germany's best consultant. The 300 companies examined were split into 16 industries and 18 areas of work allowing for better orientation of the ranking. The competency of the companies is well reflected in how they rank. The aim of the analysis was to identify the top consultants who provide long-lasting results. This is the first time that the medium-sized company, MID GmbH, has ranked in the listing. "MID GmbH is on a par with some of the largest consultancy firms when it comes to "IT strategy" and "digitalization". "We are delighted to receive this distinction and are very happy to know that our customers are happy and recognize the great work carried out by our employees" enthused Dr. Martin Müller when talking about MID's ranking.
How were the "Best Consultants 2019" Determined?
The process of determining "best consultant" has been proven over the past years. In 2019, Statista surveyed around 7,000 consultants, including partners, principals and senior managers. 1,825 of these outlined their recommended consultancy companies in particular fields via a questionnaire. 1,500 customer managers were then asked about their experience with these consultants. Recommendations and evaluations taken from both of these groups were then assessed and top lists were formed, giving an overview of the quality of the service providers.
You can see the full ranking here: www.brandeins.de/magazine/brand-eins-thema/consulting-2019/interaktives-ranking-und-bestenliste